ACT - FROSINI AWARD WINNERS FOR 2005

The Accordion Club of Tucson was recently honored with the prestigious

Frosini Award at the Las Vegas International Accordion Convention in

June 2005. The award, named for famous accordion performer and instructor

Pietro Frosini, is given to the club that has contributed the most to the

accordion, its music and culture during the preceding year. The competition

was adjudicated by an independent international committee.

ACT was chosen from an impressive list of clubs worldwide for our active

involvement in the community, energetic members and leaders, and overall

commitment to promoting the accordion in our community. Congratulations

to everyone in the Club for an outstanding achievement!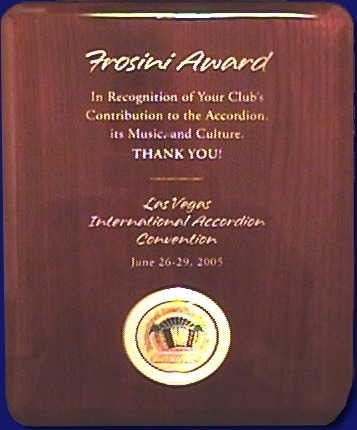 Backstage Tucson Meet Yourself

This award honors the memory of one of the America's great accordionists.  Pietro

Frosini was born Pietro Giuffrida in 1885.  His father, Michael Angelo Giuffrida

was a poor farmer with a hobby, playing the accordion, which greatly

influenced young Pietro, who began playing at age four.  He was a natural,

playing parts of operas, overtures, waltzes and folkdances...always from

memory. When he was older, he received a scholarship to a music

conservatory.  But he was unable to study accordion there, so he played

cornet, piano and organ. 

In his 20's, Pietro joined the English seaway as a cornet player in their orchestra.  One day in 1905, they arrived in San Francisco, and Pietro decided to stay.  It was then that he changed his last name. Why Frosini?  Nobody is certain.  We only know that Rossini was his favorite composer  and that an admired teacher at the music conservatory was named Frontini. 

He quickly met Guido Deiro, who convinced Pietro to change his approach from classical to more popular styles. Then in 1913, he moved to New York, where he lived until his death in 1951 entertaining, composing, playing, teaching and raising a family.

Frosini composed approximately 200 original pieces for the accordion, mostly light and entertaining.  Pietro Frosini, along with Pietro Deiro and Anthony Galla-Rini, dominated the accordion scene in the United States throughout most of the Twentieth Century.